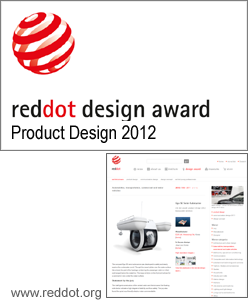 2012-2013 RED Dot Design Award
The Red Dot Design Award is one of the largest and one of the most prestigious design competitions in the world.
In the 2012 REDDOT DESIGN AWARD, EGO SE – compact semi-submarine is awarded with "Honorable Mention" for its unique design and creative idea in the section of Automobiles, transportation, and commercial and water vehicles.
This means that EGO Inc. has the same competitive edge as world class vehicle manufacturers. This also means that EGO SE is credited with its value of smart and creative design more than just a new kind of marine leisure watercraft. EGO Inc. will keep bringing on new and innovative designs through constant research & development.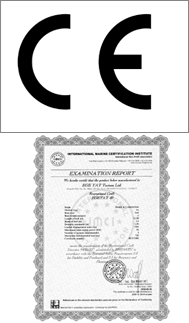 CE Certificated
The CE Mark was established in its updated form in 1993.
This mark Guarantees that the product you buy conforms to international safety standards, and is built to last.
There are of course regulatory bodies that oversee the production and test methods, along with manufacturers own testing.
The EGO falls into the RCD (Recreational Craft Directive) part of the ISO standards, this simply means, if it is not safe and does not conform to International Maritime Standards, It would fail the tests. This would result in the EGO not being able to be imported into almost every country in the world.
As almost all countries recognize this Standard, we are proud to say EGO surpasses all the tests and safety standards set up by CE, and have been passed by the IMCI body of the CE standards office. CE certificates are issued for each vessel, along with HIN(CIN) Numbers, so each vessel can be registered in its own country. Without this, no EGO would be allowed to be imported to almost every country in the world.
"OUR EGO HAS BEEN CERTIFIED AS BEING SAFE AND BUILT TO INTERNATIONAL STANDARDS."
As a footnote to this, you should always make sure anything you buy has the international standard certificate. Each EGO comes with a technical file, this file contains all the information for insurance purposes, without this file, insurance on the EGO would be near impossible to buy.
This gives you an idea that safety of the passengers is paramount to us, we want to make sure you enjoy your journey into the Deep Blue, in utter safety, and of course comfort. And do not worry about your surroundings.
Enjoy your leisure time with EGO and the underwater world it takes you to.

Data protection.

When using our services you may be asked to supply personal data. Providing this information is voluntary. Your personal data is used in strict accordance with Korea data protection laws.

Personal data supplied on EGO Inc. websites is used as part of the contract procedure and in order to process your requests. Processing and using your data for consultation, advertising and market research purposes only takes place with your explicit consent. If, when giving your consent to the purposes stated above, you also give your permission for your data to be used by other EGO Inc.organisations or additional named third parties, your data may also be transferred to these parties. If this is not the case, your data will not be transferred to any other parties.

You may revoke your consent at any time with immediate effect for the future. To do so, please contact our hotline: +82 (0)31 354 4512


Copyright.

© Copyright 2012 EGO Inc, Korea. All rights reserved. The text, images, graphics, sound files, animation files, video files, and their arrangement on the EGO Inc website are all subject to copyright and other intellectual property protection. These objects may not be copied for commercial use or distribution, nor may these objects be modified or reposted to other sites. Some EGO Inc. websites may contain images whose copyrights are attributable to third parties.



Trademarks.

Unless otherwise indicated, all trademarks on this website are subject to trademark rights of EGO Inc., including marks, model names, logos, and emblems.